Thank you for taking the time to read the fine print of our policies. Our insurance carrier mandates that renters sign a rental agreement upon arrival. Our policies have not changed. What is new, is that we are requiring renters to explicitly agree to these policies when they arrive. The rental agreement is provided below. If you are not bringing a pet, then part of the agreement is irrelevant. Also, if you are not using our boats or motors, then another part of the agreement is irrelevant.

If you should have any questions about the agreement, please contact us before your arrival. Thank you!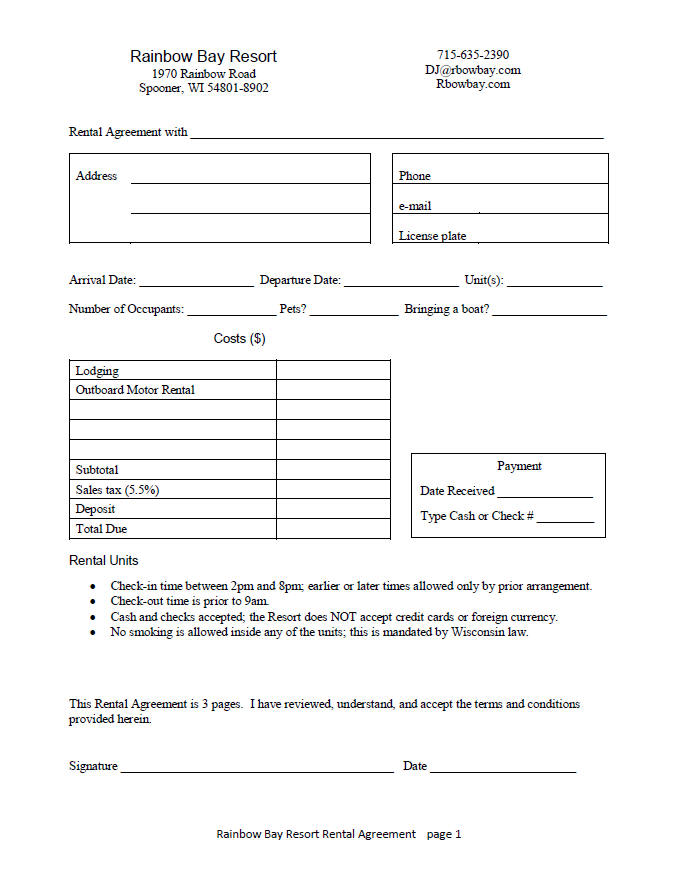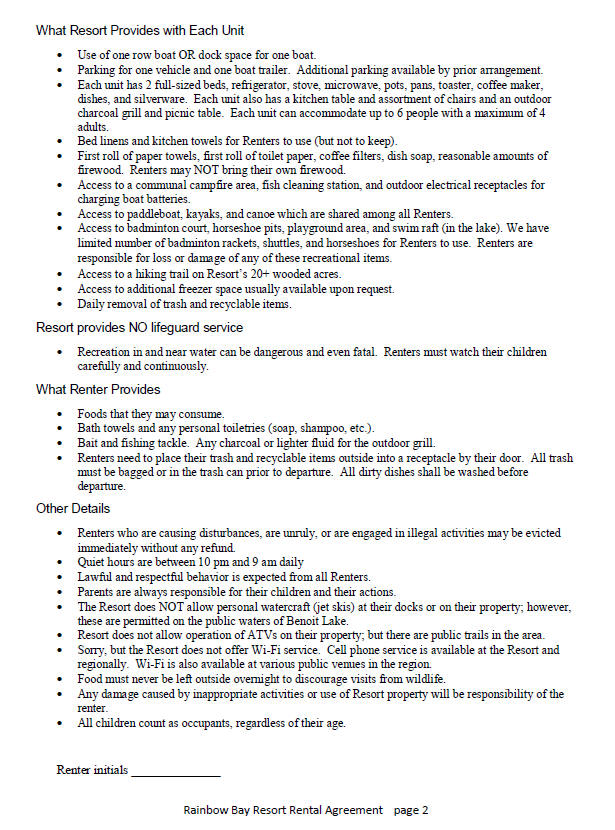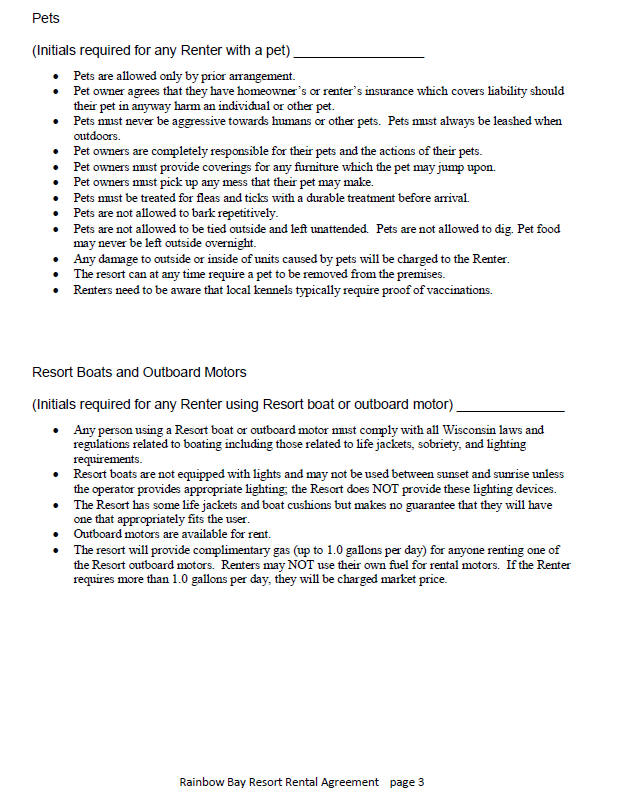 ~Some Other Details ~
Management in 2021 to Reduce Risk of Transmission of Covid-19 Virus
Because of the Covid-19 Pandemic, we are allowing at least 48 hours between guests. This extended time promotes the natural death of any virus particles. We are sanitizing all dishes, cooking ware, and eating utensils between guests. We also are sanitizing all high-touch surfaces, such as switches and door knobs, between guests. This year we are not providing pillows; guest should bring their own. We are laundering all sheets, blankets, hot pads, area rugs, and dish towels between guests. We are expecting guests to dispose of their own trash (in our dumpster) and recycling (in a bin near the fish cleaning house); we continue to provide trash bags and dispose of fish heads. While we enjoy talking with our guests, we will do so only outdoors and with a minimum of 6-foot spacing.
We are offering full refunds to guests in 2021 should they decide to cancel their reservation because of illness.
Rental Rates
Our rental rates are listed on the rates page. Please add 5.5% sales tax to all rates listed. If you have any questions on our rates, please contact us and we'll be happy to give you an exact quote.
Length of Reservations
We require a minimum stay of 2 nights during May, September, October, and November. During June, July, and August we require a minimum stay of 5 nights (which has the same rental rate as 7 nights). Occasionally during the summer we will accept a shorter reservation; however we'll only take a shorter reservation 2 weeks (or less) in advance.
Deposit and Shortened Stay
We require a $200 deposit per unit to guarantee your weekly reservation and a $100 deposit per unit to guarantee a weekend reservation. We will hold your reservation for 10 days without a deposit. Upon receipt of your deposit, we will send you written notice that we have received your deposit. (We are not using these particular policies in 2020: Should you be forced to cancel your reservation, we will retain your full deposit, unless you cancel at least 6 weeks prior to your reservation, in which case we will refund two-thirds of your deposit. If you must shorten your stay, we will charge you for the all the days of your reservation, including any reservations of any outboard motors.)
Payment Types, Number of Occupants, and Pets
We accept cash, personal checks, money orders, and travelerís checks. Sorry, we do not accept credit cards. All persons count as occupants, regardless of age. Sorry, but we cannot allow more than 6 people per unit. Pets are allowed only by prior arrangement; please call us to discuss your pet. Normally we donít charge extra for pets. Our insurance carrier has mandated that renters have homeowner's or renter's insurance if they bring a pet. You also must keep your dog leashed. If your dog is at all aggressive, we can require that you remove your dog to a kennel (there are a couple in the area) or vacate our resort.
Boats, Life Jackets, Playground
Each rental unit comes with a 14-foot aluminum rowboat, including one set of oars. We have a canoe, two kayaks, and one paddle boat that are available for our guests to use at no charge. Most guests bring their own life jackets and boat cushions, but you may use ours (at no cost) if needed. Play areas, shuffleboard, badminton, and horseshoes are also available for our guests.
Outboard Motors
We have 2 outboard motors available for rent: a 6 horsepower and a 2.5 horsepower. We provide free fuel for these outboard motors. Motors should be reserved in advance.
Damage
We always do our best to keep everything clean and in working order. We will not charge for items that break or malfunction from normal use. At our discretion, we may charge you to repair or replace items that are damaged due to misuse.
Personal Watercraft (Jet Skis)
We donít allow personal watercraft (jet skis) to use our dock or shoreline. We also do not allow off-road vehicles on our property. There are, however, trails designated for use by 4-wheelers in the area. Our property is open to our guests for hiking all seasons and to snowmobilers during winter.
Bringing Your Own Boat
If you bring your own boat, we will gladly make complimentary space available for it at one of our docks. We will also gladly provide free parking space for your trailer. Please do everything possible to prevent transmission of harmful exotic organisms (for example, Eurasian watermilfoil, zebra mussels) into our lake by draining your live wells and cleaning off your trailer before launching your boat.
Campfires
We have a campfire area and provide free firewood (reasonable amounts). If you use an excessive amount of firewood, weíll charge you a nominal fee. Occasionally we will not allow campfires because of dry conditions or excessive wind. If you are unsure if conditions are safe for a campfire, please ask first. We ask that our guests be in attendance of fires and that they extinguish them when retiring.
Linens and Paper Products
We provide bed linens, kitchen towels, 1 roll of toilet paper, and 1 roll of paper towels. Most guests bring additional toilet paper. Please also remember to bring bath towels and any personal items. If there is something special that you need (large cooking pot, cork screw, etc.), often we can help. There is a Weber grill and picnic table in front of each unit; guests need to provide their own charcoal. In 2020, guests need to bring their own pillow and we provide only a single blanket for each bed.
Please contact us if you have any questions regarding our amenities, policies, or rates.